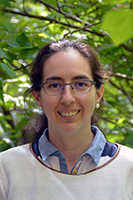 Nadia Morales, PhD.
Postdoctoral Fellow
B.Sc. Universidad de los Andes, Microbiology / Molecular Biology, 2008
Ph.D. University of Western Ontario, Biology, 2015
Email: nadia.morales@utoronto.ca
---
Publications:
Clostridioides difficile Colonization Is Differentially Associated With Gut Microbiome Profiles by Infant Feeding Modality at 3-4 Months of Age.
Drall, KM, Tun, HM, Morales-Lizcano, NP, Konya, TB, Guttman, DS, Field, CJ, Mandal, R, Wishart, DS, Becker, AB, Azad, MB, Lefebvre, DL, Mandhane, PJ, Moraes, TJ, Sears, MR, Turvey, SE, Subbarao, P, Scott, JA, Kozyrskyj, AL.
Front Immunol.10,2019. PubMed PMID:31921134
The plant pathogen Pseudomonas syringae pv. tomato is genetically monomorphic and under strong selection to evade tomato immunity.
Cai, R, Lewis, J, Yan, S, Liu, H, Clarke, CR, Campanile, F, Almeida, NF, Studholme, DJ, Lindeberg, M, Schneider, D, Zaccardelli, M, Setubal, JC, Morales-Lizcano, NP, Bernal, A, Coaker, G, Baker, C, Bender, CL, Leman, S, Vinatzer, BA.
PLoS Pathog.7,2011. PubMed PMID:21901088
Search PubMed
Microbial diversity in leaves, trunk and rhizosphere of coconut palms (Cocos nucifera L.) associated with the coconut lethal yellowing phytoplasma in Grand-Lahou, Côte d'Ivoire. Morales-Lizcano NP, Hasan A, To H, Lekadou TT, Copeland J, Wang PW, Diallo HA, Konan Konan JL, Yoshioka K, Moeder W, Scott J, Arocha Rosete Y (2017). African Journal of Biotechnology. 16(27), 1534-1550. doi:10.5897/AJB2017.16006.  
First report of the
identification of a 'Candidatus Phytoplasma pruni'-related strain in
Trillium species in Canada. Arocha-Rosete Y, Morales-Lizcano NP, Hasan A, Yoshioka K, Moeder W,
Michelutti R, Satta E, Bertaccini A, Scott J. (2016). New Disease Reports 34, 19. doi:10.5197/j.2044-0588.2016.034.019