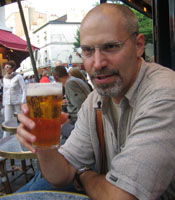 David S. Guttman, PhD.
Canada Research Chair in Comparative Genomics
Associate Chair for Research
Director, Centre for the Analysis of Genome Evolution & Function
Education:
Ph.D. Stony Brook University 1994
B.Sc. Washington University in St. Louis 1987
Research Areas
Bioinformatics & Computational Biology
Comparative Genomics
Evolutionary Biology
Functional Genomics
Genetics
Microbiology
Pathology
Plant Biology
Research
The Guttman lab has two major foci. First, we are studying the evolution of host specificity and virulence in pathogenic bacteria. We are specifically interested in identifying the genetic determinants of host specificity, and determining what factors determine if a particular bacterial-host interaction is benign or results in disease. Our work will lead to a better understanding of where the genetic potential for virulence originates and how is it maintained in bacterial populations. Most of this work is done with the agriculturally important plant pathogen Pseudomonas syringae and the model plant Arabidopsis thaliana. Our second focus is on the structure, dynamics, and function of bacterial communities (microbiomes) associated with both humans and plants. We are specifically interested in understanding how polymicrobial communities influence the expression and course of disease. Microbiomes have been shown to dramatically influence immune development and disease resistance and progression. Most of this work is focused on cystic fibrosis, and plant resistance, although we also study a number of other human pathologies such as inflammatory bowel disease. We use a wide range of comparative, evolutionary and functional genomic approaches in the group. We have a particularly strong emphasis on using evolutionary and bioinformatic approaches to generate hypotheses that can then be functionally validated through traditional molecular and biochemical assays.